Overview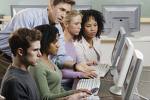 SEO training or training in search engine optimization is a growing field these days. As more and more companies realize that value of showing up on the "first page" of Google, Yahoo, and/or BING, more and more companies are telling their marketing managers and web teams to "get trained" in SEO. In many instances, you can find a "real-world" class, locally. Don't miss my own weekly, Search Engine Optimization – FREE SEO Training Course Webinar.
SEO Training Outline
Unfortunately, you will see many courses (both online seo training courses and real-world seo training courses) that are sparse, at best. They might just say something like "we will get you to the top of Google" and be rather cheesy. You're better off using something like a free seo audit tool to see what your SEO actually needs and consulting with a professional to see what can be done to boost rankings, rather than using a flimsy course. It's not simple and beware of anyone that "guarantees" that they can use SEO to get you to the top of Google. This is a great marketing tool as potential customers will come to your site if you have a higher ranking on Google, using tools such as citation sites and link building are also great to bring more traffic on to your site, what are citations and link building you may ask, well you can find out more by checking out sites such as Bright Local. It is not that simple! You might find that your website may require help from multiple sources such as somewhere like Raleigh Digital, among others to manage your SEO needs. That said, there are certain basic areas that I cover in my real-world and online seo training courses. And, I believe that all these topics should be covered in a good seo training course –
Search Engines – the basics of how search engines work, especially the nuances of queries – i.e., how single, multiple, quotes vs. no quotes, etc., work to change a query.
Keywords / Keyphrases – generating good, no great, keywords is fundamental to a successful "on page" SEO strategy. So your course instructor should explain everything about keywords, and hopefully all the free tools that go with that. By the way, I cover some of the free tools, in my free webinar on free seo tools each week…
Website Structure – setting up your website in a Google-friendly way is paramount, and a good seo training course should explain how to set up your website, how to name your directories and pages, how to use URLs to your advantage, and how to use the sitemaps (both normal and XML) to your advantage.
News – most companies issue news releases and new product announcements. These are the No. 1 opportunity for fresh content, and your SEO training course should explain how to generate effective search-engine friendly news.
Links or Off-page SEO – getting good quality links is the most important "off page" component of an effective SEO strategy, so that topic needs to be covered in detail in your SEO training course. If not, leave.
Metrics – Metrics, especially Google's free Google Analytics Tool are a critical way to measure your success, or failure, at SEO and PPC. A course should cover metrics.
About Jason McDonald

I am a "technologist" crazy enough to begin experimenting with online media in 1994, when we founded eg3.com as a web portal for embedded systems, broadly defined. I have a Ph.D. from the University of California, Berkeley, having written my dissertation on "Economic Policy in Hungary." That came after my 1981 graduation from Harvard College, and growing up in Tulsa, Oklahoma, where I was lucky enough to attend Booker T. Washington High School, a racially integrated "magnet" school.
I now do a lot of marketing teaching, especially in SEO (search engine optimization) here in the Bay Area as well as online. If you would like to know more, please contact me!