Fremont, CA – March 8, 2010 – Jason McDonald, a leading expert in SEO Training, has just published his new free SEO book, SEO Fitness Workbook: Your Step-by-Step Guide to Dominating Google with the Top Ten Free SEO Tools. Although the book is available for purchase on Amazon.com, Dr. McDonald is giving away a free ebook copy to every attendee of his online free Webinar on the Top Ten Free Tools for SEO / Google Rank.
SEO Step-by-step
"My students both online and in San Francisco have asked repeatedly for a simple step-by-step guide to SEO," said Jason McDonald, SEO Director of the JM Internet Group, "Well, here it is! The problem that many businesspeople face is that there is a lot of SEO theory out there, and a lot of SEO esoterica, but not many step-by-step guides to what you need to do to really succeed at SEO. This book couples with my online and San Francisco training to help students outline their SEO strategy step-by-step."
Free SEO Book – Contents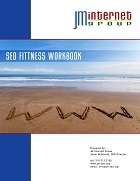 This workbook follows the seven steps to effective SEO taught by Dr. McDonald in his SEO Training Courses –
Keywords – identifying the best keywords for your company.
Page Tags – weaving your target keywords into your HTML Page Tags.
Link Building – link targets and link-building strategy.
News – using news and blogs for SEO.
Rank – measuring your rank on Google, Yahoo, and Bing.
Website Structure – creating the best, Google-friendly website structure.
Metrics – measuring incoming web traffic and what happens once they land on your website.
Appendix – Top Ten Free Tools for SEO / Google Rank
Get SEO Fit – Using the free SEO Book / SEO Fitness Workbook
SEO is often compared with physical fitness, and the SEO Fitness Workbook is really meant as a companion to a serious commitment to learn about SEO. This can be done through an online course in SEO such as those taught by the JM Internet group, or by participating in a real-world class such as the SEO Training classes taught by Dr. McDonald at AcademyX in San Francisco. Many students get frustrated and overwhelmed with all the esoteric details of an SEO fitness program; the workbook helps them clear their thoughts by taking them step-by-step through a systematic SEO fitness program.
Moreover, the SEO Fitness Workbook identifies Dr. McDonald's pick of the Top Ten Free SEO Tools. This list has become incredibly popular and forms the basis for his monthly free webinar of the same name. "Nothing is better than free," quips Dr. McDonald, "Except using the top ten free SEO tools to get to the top of Google's free listings!"
News Releases
Dr. Jason McDonald is a recognized expert in search engine optimization, Internet marketing, and search marketing based in Fremont, California. Dr. McDonald received his Ph.D. from the University of California in 1992, and has worked at many hi-tech start up's in the San Francisco Bay Area. In addition, Dr. McDonald is Senior Editor at eg3.com, a web portal and email service covering hi-tech embedded systems on the Internet, founded in 1994. Recently, Dr. McDonald has begun teaching marketing, market research and Internet marketing at Bay Area institutions such as AcademyX and DeVry University.
Contact Information
Dr. McDonald can be found on the Internet at https://www.jasonmcdonald.org, a website focused on search engine marketing, SEO, and other Internet marketing issues with in-depth free information on SEO, Page Tags, Google Analytics, Metrics, Link building, Free SEO Tools and more. He can also be contacted by telephone at +1-702-879-4771 or email, jasonmcdonald.blog@gmail.com.