Links and link building – so important to successful SEO, yet so mysterious. PageRank vs. TrustRank… Recently, I was lucky enough to attend Jim Boykin's fantastic session at SES San Francisco on link building and TrustRank. Boykin is founder of We Build Pages, a link building company in Clifton Park, NY. He shared his insights into how Google looks at links, and was the best free session at SES. This blog posts discusses some of the high points.
By Jason McDonald
Senior SEO Instructor – JM Internet Group
Posted: August 23, 2010
Contents:
TrustRank: a Different Way to Look at Links and Link Building
We Build Pages: Jim Boykin's Methods
Do-it-yourself Link Building / TrustRank Ideas
Most of us who as SEO consultants or SEO Companies work with clients to improve their rank on Google, Yahoo, or Bing, emphasize the on page aspects of SEO. Good page TITLE tags, pithy and exciting META DESCRIPTIONS, keyword-heavy, well-structured content. Beyond the on page SEO factors, we usually talk a little with our clients about the importance of link building for successful SEO.
I, for one, usually emphasize news and news syndication as one of the fastest and best ways to build links. With Google's move towards real-time search, I have seen an enormous impact of having news and news links inbound to your websites. Others emphasize the Google concept of PageRank which is a measure of a site's authority on the Web. Better, keyword heavy links from other websites that enjoy high PageRank is the Holy Grail of most link building.
Boykin and his company, We Build Pages look at this problem, differently. He emphasizes what is usually called TrustRank. In a nutshell, Boykin wants links from trusted websites, for most practical purposes those with .edu, .gov, and .mil domain extensions. TrustRank assumes that the search engines value these domains more highly than the easy-to-get .com, .net, and even .org domains. It second guesses not just PageRank but the common sense authority of other websites.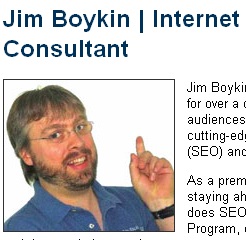 How does Boykin put TrustRank into play as an SEO link building Strategy? Here, in a nutshell, is how I understand his process –
identify the target (client) keywords.
identify the most trusted sites that dominate Google for those keywords and/or dominate adjacent searches (e.g., pool safety vs. swimming pools).
Boykin's target list is then the most trusted sites relating to his client's target keywords. His method beyond that is to write quality, research-oriented, informative pieces and then solicit links from the university and governmental researchers who already have pages that are enjoying high Google rank for the target keywords.
The theory is common sense and beautiful. But it is obviously a lot of work, and not cheap. You can find out more by clicking on Boykin's picture above… Hey, Jim Boykin, you're welcome for the link!
As an SEO Consultant / SEO Company, I work with all sorts of clients. But many of my students are on very tight budgets, and need do-it-yourself advice. They probably can't afford Boykin's expense, although it is probably well worth it.
My advice to the do-it-yourself link builders would be to realize that, outside of buying links, almost all links are good. Quantity and quality are not mutually exclusive concepts. Nor are the three main ways of building links mutually exclusive – you can do all three –
Reverse engineer competitors, do your Google searches, and identify link targets especially those with high PageRank, then solicit links from them one by one. Many will be directories, but others will be blogs, portals and others that cover you and your keywords.
TrustRank – as Jim indicates, go after sites that have .edu, .gov, and .mil extensions. Educational, government, and military sites probably do have more credibility with Google than others – but they also probably have better PageRanks. (The two are not mutually exclusive!). So identify and solicit links from these types.
News. Use news and free news syndication for free, quick link building. Real-time search favors this method, but as Boykin points out, these links probably do fade over time.
Link building is hard work, but it pays off. The more the merrier!