Larisa Lambert's Complete Guide to Google AdWords attempts a middle ground, and fails. Does that make it a bad book, no? Does it make it an incomplete book, yes.
By Jason McDonald
Senior SEO Instructor – JM Internet Group
Posted: May 20, 2011
The Complete Guide to Google AdWords – by Larisa Lambert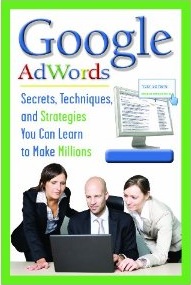 Strong on Generalities, Weak on Specifics
Google AdWords can be a powerhouse of marketing success, if one truly knows how to leverage its secrets. Most books fall apart, however, at one of two levels. Either they give you too many technical details about AdWords, or they are so high level that they provide generalities only.
Larisa Lambert's Complete Guide to Google AdWords attempts a middle ground, and fails. Does that make it a bad book, no? Does it make it an incomplete book, yes.
THE GOOD
The good part of the book is her attempt to situation AdWords within the context of one's broader marketing strategy. Unlike many books on the subject, she does ask you to ask yourself about your marketing mission. Chapter Three, in particular, asks you to "define your mission" and to identify "What do you really do." It's a brief primer on basic marketing – the kinds of basic marketing questions that one should always ask (and answer) about your own company.
What is your Business Value Proposition (BVP)?
Who are your target customers? What do they want?
How do they wants and desires of your customers intersect with your BVP?
That mental exercise is an important part of marketing – kudos to Lambert for including that in the book. She fails, however, to attach this higher level issue with the more down-to-earth aspects of AdWords –
What keywords do your customer's search, and what tools are available to help you identify both high volume and high value keyword searches?
Once someone lands on your site, what do you want them to do? How do you connect this desired action with an effective AdWords landing page strategy?
Another chapter goes into far too much detail on branding, and has far too much information on "real-world" marketing. That's not really what someone buys a book on AdWords for in the first place.
THE BAD
The bad in this book is that it lacks an easy-to-read interface, a step-by-step guide to AdWords. All books suffer from this problem. As someone who teaches AdWords in the real world and online (just Google 'Jason McDonald' to find me), I know that showing someone how to use AdWords is far, far easier than writing out written instructions.
Pictures and diagrams would have made this book much easier to use, but the book is written in an almost novel-like format; unless you are truly a wordsmith, you will get lost and not really understand how to use AdWords at the nitty-gritty level.
THE UGLY
AdWords can be great, but AdWords is like Google alcohol. You can easily get drunk on it, and do many things that you will regret in the morning. Among them: bad match types. The difference among "Animal Boarding," [Animal Boarding], +Animal +Boarding, and Animal Boarding (no quotes) is an absolutely critical part of using AdWords effectively, but this book does not clearly explain match types.
Similarly, the Display or Content Network, can be your best friend or your worst enemy. Here, Lambert does a better conceptual job at warning you (though not nearly strongly enough), but she does not provide the details necessary for most people to understand where the potential troubles are and how to generate reports to find undesirable sites.
The ugly reality of AdWords is that used without a proper understanding of match types and the Display network, it can cost you a pretty penny and generate little effective return. In my view, any book on AdWords should clearly and loudly state this fact.
This isn't the best book on AdWords; its merit lies in the marketing theory discussion at the beginning. For that, I rate it three stars. Not the worst book on AdWords, but certainly not the best. Not the worst book on marketing strategy, but certainly not the best.
I teach Social Media Marketing in the San Francisco Bay Area, as well as consultant on AdWords in San Francisco, San Jose, Silicon Valley and generally for clients in Northern California. If you have questions on Google AdWords, reach out to me for help.