LinkedIn has its headquarters in Sunnyvale but is also represented in San Francisco. Indeed, you could say that LinkedIn and San Francisco are linked (just like the Bay Area)!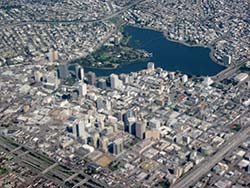 But like many things on the Internet it really doesn't matter where the physical offices are based. LinkedIn has over twenty more offices scattered around the globe, but what really matters with this social media platform is how you make use of it – either personally, or for your business.
LinkedIn is very much business oriented and is a place where you can meet other like-minded people. It began life as a place for employees and employers to meet, with employees able to post their resumes and provide referrals, and employers able to post vacant jobs. However, today it has developed far beyond that and is now a place where you can engage with your market and understand the viewpoint of the people that you want to hear from – your customers and potential customers. The connection between LinkedIn and San Francisco is irrelevant from that point of view.
So whether you are based in the Bay Area or anywhere else, how can you make use of LinkedIn? Obviously, if you are seeking work it is a place where you can promote yourself and your abilities and meet businesses and employers who might be interested in your services. If you own a business, then LinkedIn can be a valuable tool. It has a search feature which will enable you to connect with others in your industry and to learn what your potential customers want. At the same time, it helps you to keep an eye on your competition and see what they are doing.
Don't Use LinkedIn For Obvious Advertising
As with Facebook, LinkedIn has thousands of different groups that you can join, but you should really only join those that are specific to your business (or your customers). You can take part in discussions, and that will gradually help you to become recognized as an authority in your industry, but don't make the mistake of using it blatantly to promote your own products. It is not an advertising platform, so doing that will only get you into trouble.
As you become more visible over time, you may wish to consider starting your own group; this is especially good if you are as "strong" company with many passionate customers. You can then begin to mention your own products or services by asking for feedback from potential customers, providing a few strategically placed links back to your own website, and perhaps including references to your blog posts (you do have a blog, don't you?). Asking for feedback can enable you to obtain the opinions of the very people with whom you wish to connect, and it is also a way of mentioning a product without actually making it obvious advertising. In addition, of course, you will be able to keep tabs on your competitors, which is always useful.
The fact that LinkedIn and San Francisco are connected by virtue of a physical office really has no effect – even if your business is next to LinkedIn's building. You could be next door or 1,000 miles away, but you can make use of the platform just the same. I can help with an assessment of how your business and social marketing strategy can make best use of LinkedIn, so by all means reach out to me for help. Oh, and rather than visit me in San Francisco, you can find me on LinkedIn, here.