Need a dynamic speaker on Social Media Marketing? Contact me for a quick, free consultation on how I can speak to your group or help out with a corporate workshop on the art and science of marketing via social media.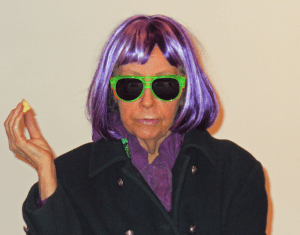 To speak to a corporate group, trade conference, or meeting on social media marketing isn't easy. That's especially true here in San Francisco, arguably ground zero for social media. First, you have to understand marketing. The basics matter, and social media marketing is – of course – marketing. Second, you have to understand what's unique about social media marketing, and convey that. (My goto framework is that social media is a party, and social media marketing is the art and science of throwing "parties" on Twitter, Facebook, LinkedIn, etc.). Third, you have to understand the technical details. For example, if you run a Digital Marketing company, you need to be savvy with the technical lingo and medical jargon so you can incorporate that into the technical side of social media. What is a hashtag on Twitter? How is it different from one on Instagram? Do Facebook Pages really have organic reach, and should anyone other than thirteen year old girls care about Snapchat? There are a lot of technical issues, and you need to know them and mesh them with the needs of your client or the group at a corporate workshop. A lot of people don't get that and muddle up their channels and what each channel really can do for them. It's no wonder many companies leave their online presence and digital marketing strategies up to the professionals. Finally, you have to be a dynamic speaker. You need to be able to work an audience, communicate ideas, and have fun. Social Media Marketing is FUN, after all, and any good speaker on social media marketing needs to convey just how fun this new way of "digital marketing" really is. With my experience as an instructor at Stanford Continuing Studies, plus my books on the topic, I am both a dynamic corporate speaker and a great teacher. Just ask for my references!
Don't believe me? Check me out on YouTube here.
Call me at +415-655-1071 or email me – I am happy to discuss your social media marketing corporate speaking or corporate workshop needs for free, no obligation!
Speaker on Social Media Marketing – Deliverables:
Many of my social media marketing consultant deliverables are transferrable to the area of being an amazing corporate speaker and workshop leader. I work with companies nation-wide, but often I consult with companies in the San Francisco Bay Area or Silicon Valley companies. Because of the Internet, it doesn't really matter where your company (or corporate workshop / event) is physically located. What matters is that you want an social media marketing speaker that has the credentials, the real experience, and the communicative abilities to speak to your audience. I provide professional social media marketing speaking and workshops based on –
Goal Assessment – what are / were the social media goals? Web traffic? Goals? Inquiries?
Keywords Themes – Keywords are the foundation of good Internet marketing and social media. Understanding the keyword themes for any corporate project is paramount.
Social Media Marketing – it's a party, not a prison. I can help you and your team understand that.
Social Media Marketing Drill downs – social media is, of course, marketing on Facebook and marketing on YouTube, plus Snapchat, Instagram, LinkedIn, Pinterest, and even Twitter. I can drill down into the relevant ones for your group and we can avoid the ones that don't make sense.
Metrics – Google analytics and beyond. Today everything is about metrics, including PPC (pay-per-click) or AdWords advertising. Let me explain what mattered (and what doesn't) in your social media marketing efforts, including the metrics on Facebook, YouTube, LinkedIn, Instagram, etc.
I have a complete bio on my professional social media marketing consultant experience, so please check that out. Any questions? Please contact me so I can do the proverbial "no obligation" quote on being your next fantabulous speaker on social media marketing.
Social Media Speaker – San Francisco Bay Area – Silicon Valley – San Jose
I work with clients all over the world on their social media marketing, but many clients prefer to meet face-to-face. If you are not in the San Francisco Bay Area, San Jose, or Silicon Valley California, don't worry. I work with many companies on their SMM needs over the phone and Internet, using the Gotowebinar software to consult with you as if I were in your office. I have even done fully digital social media marketing trainings and corporate workshops. For really large projects, I can even travel! But, that said, if you prefer to meet face to face, and are in the San Francisco Bay Area / San Jose area, we can formulate a workable strategy with me as your social media speaker at your next corporate workshop or event.