Welcome!
My name is JASON MCDONALD, and I am an EXPERT in SEO, SOCIAL MEDIA MARKETING, and GOOGLE ADS / ADWORDS!
I teach for Stanford Continuing Studies, I consult on digital marketing, I am the author of best-selling books, and – last but not least – I am an SEO Expert Witness, a social media expert witness, and an expert witness in Google Ads.

Working primarily in the San Francisco Bay Area, but with clients from around the world, I can help your company get to the top of Google, Bing, and even Amazon via search engine optimization consulting. Yes, Sergey & Larry, I am an SEO expert. Learn more.

From my perch in the San Francisco Bay Area, I look out at the world of Facebook marketing, Twitter marketing and even LinkedIn, Pinterest, TikTok, or YouTube. Yes, Cole Sear, I see marketing opportunities where others see confusion. I can also help with online advertising on social media networks such as Facebook, Twitter, or YouTube. Learn more.

AdWords (now called Google Ads) is like alcohol (and so is advertising on Facebook, YouTube, or LinkedIn), but I'll help you 'drink' responsibly. Yes, Mr. Po-Po, I can be your designated Google Ads advertising driver (or AdWords certified expert consultant). Learn more.
Expert Witness

Need an expert witness who can explain Search Engine Optimization, Google Ads, or Social Media to a judge or jury? With deposition and trial experience, I can serve as an SEO expert witness, Google Ads expert witness or social media expert witness. Yes, Mr. Judge & Jury, let me draw your attention to this pixel.
Got Questions? Need Answers?
Want to talk? CALL +1-415-655-1071, or peruse this action-packed website to LEARN MORE or, SEND ME AN EMAIL. I also accept telepathic messages (standard telepathic messaging rates apply). Most people find it more effective to just set up a consultation on their SEO, Google Ads, or Social Media Marketing, but hey – if you're telepathic – go for it. If you're in San Francisco or elsewhere in the Bay Area, there is the remote possibility of a face-to-face meeting. That said, it's just as easy to talk on the phone and look at the Web together using Zoom. Why meet in person in San Francisco or elsewhere in the Bay Area, when we can discuss your expert consulting needs via pixels and the TCP/IP protocol?
The Proof of the Pudding (is in the Eating)
Don't believe I'm the best, most amazing SEO expert in San Francisco? Can't imagine that I'm a top-rated social media consultant in SF? Don't believe I can 'play the game of SEO' (and win)? Click here, and I'll show you (note who shows up on the top of Google), or click here to read my reviews on Google My Business, or click here to read reviews of my books. Don't believe I have a sense of humor? Check me out on YouTube or follow me on Twitter.

Consulting Philosophy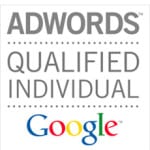 My philosophy is based on the concept of doing Internet marketing with you and not for you. My model is to teach you (or your staff) how to use SEO to dominate Google or Bing, how to engage in effective social media marketing such as Facebook marketing or Twitter marketing, and even (gasp!) how to use Google AdWords, both the search and display networks, to position your company in front of customers. I strive to be one of the best SEO consultants in San Francisco, but I engage in consulting not only in the San Francisco Bay Area but with companies all over California (including Oakland and San Jose), the USA and Canada. Unlike many SEO consultants, I empower my clients by guiding them as an expert coach. It doesn't matter where you are – what matters is that you want to succeed, and are looking for a top-rated SEO / Social Media / Google Ads consultant to help.
My Books
I publish the Marketing Almanac,  compilations of free tools for Internet marketing used in my consulting business as well as my corporate training and workshops, as well as workbooks on these topics. To view all my books, check out the Jason McDonald author profile on Amazon. Here are some highlights –
Social Media Marketing Book – an overview to social media marketing with deep dives into Facebook, LinkedIn, Twitter, Pinterest and more.
Google Ads (AdWords) Book – my latest book on secrets, tips, and gotchas in Google Ads (formerly, Google AdWords).
SEO Book, a 'how to' book on search engine optimization
My Blog(s), My Press Release(s), My So-called Life
Read more posts on my blog… Or, read posts from other blogs I write –
Contact Information
1230 Market Street #709
San Francisco, CA 94102
Tel. 415-655-1071
Click to email.