Got AdWords questions or questions on Google Ads as it is now named? I love Google AdWords. Well, actually I hate Google Ads. And I really, really hate the new name – Google Ads vs. AdWords (I'm a traditionalist). No, I love it, I hate it, I love it, I hate it. I have a love-hate relationship with Google advertising opportunities as a certified AdWords expert. How so, well as an AdWords consultant here in San Francisco, I have seen and done it all. Big clients and small clients, eCommerce clients and clients who just want to get pay-per-click leads. I've had easy projects and complete and utter train wrecks. I have even been (and continue to be) an AdWords expert witness as well as an expert witness in online advertising.
After Google's free SEO opportunities, a robust advertising campaign on Google via AdWords / PPC (Pay-per-click) has become a major way that customers can find your company thru Google. I can set up and manage your AdWords advertising, and I am an expert as well in YouTube advertising. I can even advise your company as an AdWords consultant on remarketing or retargeting so that yes – you, too, can make your customer see your annoying ad over and over and over and over again as they browse the Internet.
Google AdWords Consultant – Deliverables: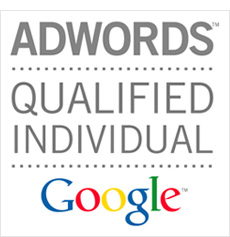 I work with companies nation-wide, but often I consult with companies in the San Francisco Bay Area or Silicon Valley companies on their online advertising. Because of the Internet, it doesn't really matter where your company is physically located. What matters is that you want to leverage Google AdWords for success, and I can consult with you on your Google AdWords needs. I provide professional Google AdWords / PPC consulting with regard to the following –
Keywords – identifying your best Google AdWords keywords. Keywords are absolutely fundamental not just to PPC but to SEO (Search Engine Optimization), and I will work with you on your online advertising to identify not just keywords but 'late stage' or 'buy' keywords.
Bids and Budgeting – helping you figure out the best bidding strategies. It's not as simple as just bidding high and letting Google think for you! You've got to bid right on Google, and I will do it right.
AdWords Organization – the organization of AdWords is critical, not just for reporting's sake but also for best Quality Score. I will help you organize your campaign for best results. Ad Campaigns to ad groups, ad groups to keywords and ads – Google rewards highly focused advertising on its advertising platform.
Google Display Network – Google's display network or GDN can be a powerful tool to help you find new customers. But, used poorly it can gobble up your budget. I will work with you to help organize your campaign to best leverage the Google Content / Display network.
AdWords Landing Pages – what happens once someone lands on your site after an ad? I will help you create powerful landing pages for your Google AdWords ads, and thereby help you convert clicks to sales leads!
I have a complete bio on my professional consulting experience, so please check that out. Any questions? Please contact me as your potential customers are out there searching, today!
Google AdWords Expert – San Francisco Bay Area
I work with clients all over the world on their Google AdWords advertising, but many clients prefer to meet face-to-face. That is especially true for corporate training in AdWords. If you are not in the San Francisco Bay Area, San Jose, or Silicon Valley California, don't worry. I work with many companies on their online advertising needs over the phone and Internet, using the Gotowebinar software to consult with you as if I were in your office. For really large projects, I can even travel! But, that said, if you prefer to meet face to face, and are in the San Francisco Bay Area / San Jose area, we can formulate a great professional Google AdWords consulting relationship.
AdWords Factoid
Imagine managing a PPC account for a mesothelioma lawyer and having concerns about meeting Key Performance Indicator (KPI) goals for the account when the average Cost Per Click (Avg. CPC) is over $900. I don't feel sorry for that PPC account specialist. And this one: Amazon spends a whopping $157 million dollars on AdWords per year (figures are for 2014). The next companies are not even close, with Priceline spending less than half at $82.3 million dollars and AT&T spending $81.9 million dollars.
Source: http://tinyurl.com/ybcdx5t9