Facebook marketing is an important part of many companies' marketing plans. So I eagerly read this new book on Facebook Fame. What a disappointment! Fables and few facts on Facebook Fame, sigh.
By Jason McDonald
Senior SEO Instructor – JM Internet Group
Posted: October 28, 2011
Facebook Fame: The Facebook Marketing Bible For The Small Business – Review of Laura Roeder's New Book (Two Stars / Not Recommended)
Facebook Fables and Foibles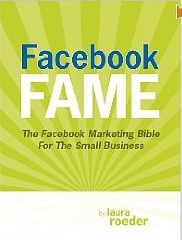 There are a lot of "F's" in Facebook Fame, beginning but not finishing with the two F's in the title, and finally finalizing with how I would rate the book: an "F." Frankly, the book is a short, facile Kindle read, so my first expectation wasn't that high. As someone who teaches social media marketing (click on my profile to reach out to me), I read everything I can get my hands on, trying to keep current with social media marketing.
Forget all that, let's talk about this fatally flawed book, Facebook Fame.
First, the book starts with many good Facebook setup issues, but then falls short when it comes to actual ideas about how to promote your page on Facebook. Roeder does seem to understand the technical differences among the Facebook like feature, like button, like box, and comments plug in, for instance, but she doesn't give us many, new innovative ideas about how to foment fan flocking to our Facebook page!
Instead, she insists that Facebook is better as a medium to interact with EXISTING customers rather than to pull in NEW customers. OK, fine, her point is well taken; but still, many companies want to use Facebook to foment their fan base, and this book provides little information on that account.
Facebook Fame leave us fatally frustrated, I fret.
Finally, she finishes Facebook Fame with rather fearless fables of companies from her courses and classes in Facebook. They may be very good, but it is frustrating, frankly, to purchase a book from Amazon only to read in the final chapter many "fables" that are one-sided accounts of students of hers, who have had allegedly found fame on Facebook. That may be true, but I'd rather foist myself over to a free website than frestle with a paid book to hear a sales pitch on classes, fine or otherwise.
Fatefully, Facebook Fame is flawed, and not at all first on my list of recommended books. Any of the Facebook for Dummies series will be a better buy. Alternatively, some online guides such as those available from Mashable will also serve as a better basic beginning to Facebook, all of which get a grade of "B" rather than "F."
Fearlessly, your friend – Jason McDonald