San Francisco, California – November 2, 2015. Jason McDonald, a recognized Social Media expert at https://www.jasonmcdonald.org/, is proud to announce the successful completion of promotional pricing for his Social Media Marketing Workbook on Amazon. The book was released in both no cost review format as well as 99¢ on Kindle as well as $8.50 in paperback to interested parties. To date, more than one hundred downloads and promotional copies have been distributed or sold. Promotional pricing ended on October 31, 2015.
"Launching a new book is never easy even in this age of social media marketing," explained Dr. McDonald, Director of the Jason McDonald SEO Consulting Agency. "Accordingly, I was very pleased at the positive response to the Social Media Marketing Workbook. The book now enjoys five reviews on Amazon, and had a few weeks in the Amazon best sellers for the category of social media marketing for business. "
To view the book on Amazon, please visit http://goo.gl/dsR5qM. To learn more about the book as well as other books by Jason McDonald, please visit https://www.jasonmcdonald.org/seo/.
More on Social Media Marketing Workbook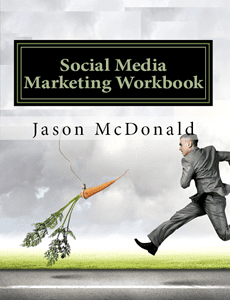 The book begins by comparing social media marketing to throwing a party (vs. social media as just showing up at the party). Dr. McDonald takes the reader through every stage from conceptualizing the theme of the party, to sending out invitations, to even preparing for hostile or disruptive guests. In addition, he identifies no cost tools (available in the companion Social Media Toolbook) that can allow the small business marketer to market on Twitter, Facebook, LinkedIn, or YouTube at no cost. Next, he goes through medium by medium to explain tips, tricks, and techniques to make social media marketing as easy as possible.
Media covered include Facebook, LinkedIn, Twitter, YouTube, Pinterset, and Yelp / Google+.
In addition, the book includes worksheets in which Dr. McDonald leads the reader step-by-step into making a macro social media plan as well as a micro social media plan for relevant media. Throughout, the book is judicious in its respect for time and money: if a social medium does not make sense for a business, the reader is advised to ignore it. Despite the hype, not all social media work for all businesses.
About Jason McDonald
Jason McDonald is director of The JM Internet Group, a leading online training company. He received his Ph.D. from the University of California, Berkeley, in 1992, and now both teaches and consults to San Francisco Bay Area businesses in SEO, Social Media Marketing, and AdWords. In addition to those services, he has been recognized as an expert witness in litigation on Internet marketing. He has several popular books on Amazon on the topic of Internet marketing.
Media Relations, Tel. 800-298-4065