No matter how crucial it may be for the success of your product, marketing seldom receives the full funding that marketing managers think is necessary. This hands-on course will teach you the secrets of marketing without money—think of it as "creating buzz without bucks." For entrepreneurs or marketing managers, there are strategies to build awareness, programs to generate trial, and activities to involve early users in the building of your business—all with little or no cost. Marketing on Facebook, Twitter, YouTube, Yelp, and other sites can combine the power of free on the Internet with the viral dynamics of Web 2.0 promotion. Convenient to San Jose and all of Silicon Valley, this course will be taught at Stanford University in Palo Alto, California.
ALERT: Next class will be begin June 28-July 26, 2017, and is 5 weeks long.

To learn more, and request a catalog, click here.
Please contact me via this website or call 415-655-1071, if you have any questions on the class.
Alternatively, you can go to Stanford Continuing Studies and sign up for their email alerts and/or print catalog.  That way, you'll get ALL their fabulous course offerings sent to you by email or snail mail. To sign up, click here.
MARKETING WITHOUT MONEY – STANFORD SEO / SOCIAL MEDIA CLASS OVERVIEW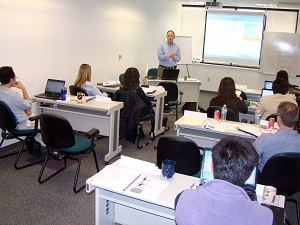 Updated Course Description for Summer, 2017
Creating online publicity with little or no money is the holy grail of marketers today. SEO (search engine optimization) is the art and science of getting your company, product, or service to the top of Google or Bing. Social media marketing, in contrast, cultivates a positive brand image on Facebook, Twitter, or YouTube, and encourages your customers to share your marketing message across social sites. The goal is obvious: get free Internet publicity. The means is not. Whether you are an entrepreneur, a small business owner, or a marketing manager at a large company or nonprofit, this course will help you better understand the online marketing environment. Beginning with SEO, we will discuss how to construct a Google-friendly website and build links, social mentions, and authority. Then we will dive into social media marketing, using the analogy of a party. How do you throw a great Facebook party? A LinkedIn soiree? A YouTube meet-and-greet? And how do you use the newer platforms of Twitter, Instagram, Pinterest, and others to nurture a positive brand image and encourage your customers to share your message? By the end of the course, you will know how to take the theory of SEO and social media marketing and transform it into a systematic online marketing plan.

Jason McDonald, Director, JM Internet Group Jason McDonald trains, mentors, and consults with companies and nonprofits on search engine optimization, keywords, and social media marketing. He has extensive experience as a technology journalist in embedded systems. He founded an Internet portal for embedded systems in 1994, and he has taught courses on Internet marketing in the Bay Area since 2009. He has written several books on Internet marketing topics. McDonald received a PhD from UC Berkeley.
INTERNET MARKETING COURSE – SF BAY AREA COMMUNITIES SERVED
Taught in Palo Alto, California, Marketing without Money is a Bay Area SEO and Social Media Marketing class within easy commute of San Jose as well as communities throughout the San Francisco Bay Area. South Bay communities in particular – such as Palo Alto, Menlo Park, Santa Clara, Cupertino, San Jose, and Milpitas are within minutes of Stanford's Palo Alto campus. Parking is easy as this course is taught in the evenings.
ABOUT JASON MCDONALD – SEO / SOCIAL MEDIA CONSULTANT
Dr. Jason McDonald is a recognized SEO consultant in search engine optimization, Internet marketing, and search marketing based in the San Francisco Bay Area / Silicon Valley. Dr. McDonald received his Ph.D. from the University of California in 1992, and has worked at many hi-tech start up's in the San Francisco Bay Area. In addition, Dr. McDonald is Senior Editor at eg3.com, a web portal and email service covering hi-tech embedded systems on the Internet, founded in 1994. Recently, Dr. McDonald has begun teaching marketing, market research and Internet marketing at Bay Area institutions such as AcademyX and DeVry University.