Google Ads (AdWords) is Google's pay-per-click advertising system. As the creator of the Google Ads Tutorial online, a free AdWords class, I get many requests for AdWords classes and trainings. I no longer offer AdWords classes live in the San Francisco Bay Area. But I do offer AdWords one-on-one coaching and consulting in lieu of a formal AdWords training course in San Francisco.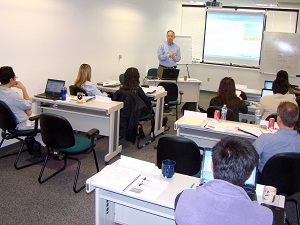 AdWords is Google's pay-per-click advertising program. You pay if, and only if, web surfers click on your ads. Many people think of SEO and AdWords as in opposition to each other, whereas in fact the two can (and should) work together. In my Google AdWords Class, I give a basic AdWords training in how to take proven SEO techniques and weave them into your Google AdWords advertising. Your AdWords advertising is thus more effective in its own right, plus works hand-in-glove with your SEO strategy. "As it should be," a savvy marketer might say!
If you are in San Francisco, elsewhere in the Bay Area, or anywhere in the world, I can help you with one-on-one training in Google AdWords.  Just call or email me for details!
AdWords Topics covered include –
Vs. or And? Is it AdWords "versus" SEO, or AdWords "and" SEO? Blending the two together in an efficient integrated marketing strategy.
AdWords Special Advantages. AdWords has certain unique advantages over SEO, among them geotargeting. When and where AdWords especially shines.
AdWords Special Needs. Unlike SEO, you pay for each and very click. So there are some special situations and concerns with respect to AdWords, especially "negative" keywords.
AdWords Rank. Using special tools to monitor your rank by Google keyword/keyphrase and blending this data into your AdWords campaign to save you money.
AdWords Bids. Understanding Quality Score and the AdWords bidding process.
AdWords On Page Optimization. Creating effective AdWords campaigns from the beginning.
AdWords Landing Page Optimization. Creating effective AdWords landing pages.
Google Ads training is critical for today's smart marketer and businesspeople.
San Francisco Bay Area Google Ads Training – Some History
There are many nearby communities to San Francisco; if you live in one, hop on Bart, Caltrans, Muni or your car and come up or over to SF to learn about search engine optimization, AdWords, Google and all those fun acronyms that really mean getting your company to the top of Google, for free! 1854 – Lone Mountain (Laurel Hill) cemetery established in San Francisco. –Timeline. 1855 – September 24 – The preserved heads of Joaquin Murieta and Three-Fingered Jack" were sold at auction today for $36 to satisfy a judgement –Gold Rush Chronology 1855 – 1856 1856 Following the cleanup of crime by the 1856 Committee of Vigilance came a stimulating improvement in business and prospects, and it was on June 11, 1856, that the City and County of San Francisco was formed, and a new county called "San Mateo" was created out of the remainder of the old County of San Francisco. What a strange town was that, the San Francisco of 1856, its 30,000 people in speedy transition from a city of tents and shacks to one of brick and stone buildings. –San Francisco in 1856 [SF Museum] James King of William, editor of the Evening Bulletin, is shot and killed by James Casey. –Social 1858 – Sutro & Co.Founded in San Francisco by Gustav, Charles, and Emil Sutro. The company is the oldest investment banking firm in San Francisco. 1859 – At the pre-emptory request of a large majority of the citizens of these United States, I Joshua Norton, formerly of Algoa Bay, Cape of Good Hope, and now for the last nine years and ten months past of San Fransisco, California, declare and proclaim myself the Emperor of These United States. – Joshua A. Norton, September 17, 1859 1860 The pioneer pony of the famous express today begins its first trip across the continent. –Evening Bulletin San Francisco, Tuesday Evening, April 3, 1860. 1999 – AdWords invented by Google in Mountain View.
Source: http://www.zpub.com/sf/history/sfh2.html