SEO, or Search Engine Optimization, is all about using free SEO tools to get to the top of Google's free listings. I teach two day SEO trainings at AcademyX in San Francisco, one day workshops at BAVC, and a five week evening course at Stanford Continuing Studies in Palo Alto (Silicon Valley). Wherever you are in the San Francisco Bay Area – from San Francisco to Oakland to San Jose – you can take a San Francisco SEO class from me.
---
---
Fill out the form below to receive an email alert when the Stanford registration is open:
SEO Topics Covered at My San Francisco Classes Include –
Keywords – selecting the best SEO keywords using free tools.
Page Tags – proper HTML page tags
Link Building – how to reverse engineer your competitors' links, and how to build your own SEO link building strategy.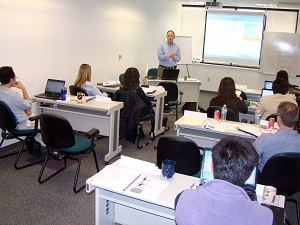 Google Local – what is Google Local (Google Places) and how do you exploit it for SEO.
News – submitting your new for free syndication, and leveraging it as a link-building strategy
Top Ten Tools – top ten free SEO tools for Google and SEO. Explanation of each tool, where it is, how best to use it.
Google training is critical for today's smart marketer and businesspeople. If you are lucky enough to live in the San Francisco Bay Area (or just be visiting), taking one of my "live" courses in SEO in the Bay Area is a great "face to face" way to learn search engine optimization. Whether you are in Oakland, San Francisco, Marin or on the Peninsula, all of the locations I teach in are easy to get to.
San Francisco SEO Training – Some Fun Facts
There are many nearby communities to San Francisco; if you live in one, hop on Bart, Caltrans, Muni or your car and come up or over to SF to learn about search engine optimization, SEO, Google and all those fun acronyms that really mean getting your company to the top of Google, for free! Here are some historical facts about San Francisco and the automobile (though I prefer BART) –
The first road signs in the State of California were put up by your humble servant, who at the time was manager of the automobile department of the Fireman's Fund at San Francisco. The company would ascertain when automobile picnic parties—and they were gala events in those days— were to be held, and would send out an advance guard to post signs to direct the happy picnickers to their destination at Redwood City, San Rafael, or some other equally "distant" locality from San Francisco. Later the Automobile Club of California posted a number of road signs. George T. Cameron, now editor of the Chronicle, was then vice-president of the club. The Goodrich Rubber Company then established a network of the old black metal signs all over the State. Some of these old signs are still standing, side by side with the road signs of the present automobile clubs of comparatively recent origin.
First Auto Show
The first automobile show ever held in San Francisco was staged at the old Coliseum in 1907. The Fireman's Fund had a booth at the show advertising automobile insurance, and it was my duty to invite the visitors into the booth, assign them an easy chair in which to rest their weary limbs after their pleasant, but tiresome task of inspecting the snappy 1908 models offered by the local dealers. In addition the company, through its automobile department, was instrumental in organizing endurance runs, hill climbs and road races. Source: http://www.sfmuseum.org/hist/autos.html.