Yesterday, was my debut on the witness stand as a "social media expert witness" at my first trial. Now, I have actually done quite a bit of expert witness work, but nothing has ever gone as far as trial. Of course I can't share any confidential details of the trial, but here are some random thoughts about being an expert witness and San Francisco in general.
Thoughts on San Francisco and Being an Expert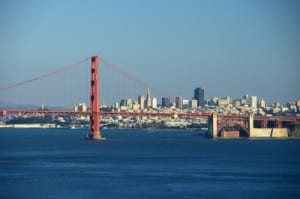 Thought #1. Don't be nervous. There's the judge, the jury, and the opposing counsel. It could be perceived as quite intimidating… but then – again – I am the expert on the subject, and if one approaches court with a positive attitude, as a social institution that is really trying to "get to the truth" (admittedly in an adversarial system), then what's there to be nervous about? As long as you are telling the truth, and doing your best to research and investigate that truth – then really, being an expert witness is very much like being a teacher.  So no need to be nervous!
Thought #2. Viva San Francisco!  This trial was at the Superior Court in downtown San Francisco.  While waiting to be called as a witness, I had a "front row" seat and a next-to-the-person seat next to many people doing their jobs at San Francisco Superior Court. There were a lot of plea bargains going on there, and San Francisco is just a very, very lively city. So if you are ever bored, pop into Superior Court and just hang out. It's like a 24 hour soap opera – believe me.
Thought #3. Viva Wi-Fi. The free public Wi-Fi in San Francisco is amazing, and made the long wait to be called as an expert witness bearable.
Now there are many, many factual and research details about being a social media expert witness… but those are three thoughts on my half day in San Francisco Superior Court.