San Francisco is a city of learning. I've certainly found my niche in "adult learning." What I like about adult learning is the practicality of it: no babysitting, no students freaking out about grades – just working adults who are trying to better themselves. Technology has made this easier to do with things like lecture capture software teachers and lecturer are able to reach their students who can't make it to class because of distance or work making those who want to learn able to do so. You know what they say: "Youth is wasted on the young," and so often I find that my adult learners wish that they had learned Internet marketing at university… but then again, for many of them there was no such thing at the time. There are many resources online that can help with adulting learning such as continuing education seminars.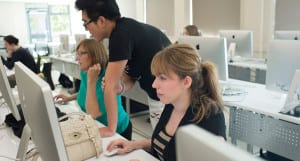 We're all in this boat together, learning by doing. One very useful learning opportunity is to try and learn a new language. EffortlessEnglishClub.com is one place to do it! Here's a list of adult learning opportunities in San Francisco –
That's my round-up of adult learning opportunities in San Francisco. Remember that what one university calls "Continuing Studies" another calls "Extension." For example, I teach "Marketing Without Money," and "Personal Branding" at Stanford Continuing Studies. Those classes, of course, focus on SEO and Social Media Marketing, with a Palo Alto location more convenient to people living in San Jose, Fremont, or other South Bay cities. You can learn about my own San Francisco SEO Training or San Francisco Social Media training, or just give me a call or email – and I'll explain how to learn Internet marketing in San Francisco.