San Francisco, California – June 2, 2018. Jason McDonald, a San Francisco Bay Area expert consultant in SEO and social media marketing at https://www.jasonmcdonald.org/, is proud to announce new informational pages on his speaking availability as either a SEO speaker or a social media marketing speaker (or both). Jason has spoken to many corporate groups and workshops, and is available for speaking engagements not only in San Francisco but across the entire United States.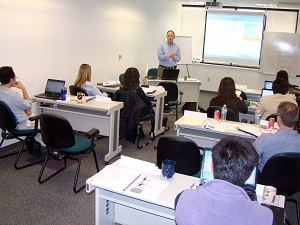 "While I have spoken at quite a few conferences and workshops, I have done the best job promoting my speaking skills," explained Dr. McDonald, Director of the Jason McDonald SEO Consulting Agency. "The new informational pages are a starting point for anyone planning a corporate meeting, trade show, or workshop here in San Francisco or elsewhere and looking for a dynamic corporate speaker on search engine optimization, social media marketing, or digital marketing as a whole."
Persons interested in learning more about Jason's availability as an SEO speaker can visit https://www.jasonmcdonald.org/seo-consultant/seo-speaker/, while those interested in his availability as a speaker on social media marketing, can visit https://www.jasonmcdonald.org/social-media/social-media-speaker/. In either case, interested parties are urged to visit the website and reach out for a no obligation consultation on a possible speaking engagement or corporate workshop. If you're trying to build a successful website and need some help with web hosting as well as SEO, contact HostiServer.
A DYNAMIC SPEAKER AND TEACHER ON DIGITAL MARKETING

Jason has a long history in Internet marketing. He received his Ph.D. from the University of California in 1992 and began working in media in San Jose, California. In 1994, he founded eg3.com, one of the first Internet portals for embedded systems engineers. By 2008, Jason had returned to teaching, teaching in San Francisco at AcademyX, the Bay Area Video Coalition, and Stanford University Continuing Studies. Between teaching and books, he has a passion for taking complex topics and making them easy-to-understand for average small business owners and marketers. Jason has conducted many corporate workshops and trainings, plus several thousand one-on-one sessions for individuals who read his books or take his classes and want extra help getting their websites to the top of Google, or positioning their social media marketing as best-in-class. Jason is also an expert on Google AdWords, and can speak or conduct workshops on digital advertising.
ABOUT JASON MCDONALD
Jason McDonald is director of The JM Internet Group, a leading online training company. He received his Ph.D. from the University of California, Berkeley, in 1992, and now both teaches and consults to San Francisco Bay Area businesses in SEO, Social Media Marketing, and AdWords. In addition to those services, he has been recognized as an expert witness in litigation on Internet marketing. He has several popular books on Amazon on the topic of Internet marketing.
Media Relations, Tel. 800-298-4065