Many folks solicit me as a Google Ads expert witness AND they want someone in the Bay Area. As it happens, I have deep connections to the Bay Area, so that's OK. However, I also get inquiries from people in places far away, and THEY want someone just around the corner as well!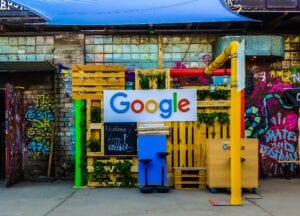 Well, guess what? We live in the 21st century and there's (a) this thing called the Internet – and emails – and (b) this thing called airplanes. So it actually doesn't matter a jot if you are looking for a Bay Area Google Ads expert witness or a Manhattan area Google Ads expert witness. The only thing that is important is the technical expertise of the expert and not his or her physical location, nor yours.
I do, in fact, work with clients all over the world on their Google Ads needs, but many clients prefer to meet face to face. So if you want a Bay Area Google Ads expert witness and you are in the Bay Area or Silicon valley, that's fine. Either I can jump in the car and come to your office or you can come to mine in San Francisco.
However, it's just as easy to work over the phone or on the Internet. We could use Zoom or we could use Skype. There are several ways that we can have a virtual meeting.
It Is Easy To Spend A Small Fortune on Google Ads
When you use Google Ads it is very easy to spend a small fortune and get it wrong. Even if you have an almost unlimited budget, it is not a simple matter of putting in a high bid and hoping that Google will promote you because of that. There is a lot more to bidding on Google Ads than you might think, and you have to do it right.
Then you have to consider your keywords. These are critical to PPC and also, of course, to SEO. You need to use the right keywords and also use long-tail keywords. In addition, you need to include "buy" keywords.
Of course, you also need a landing page, and not just any old landing page, but a landing page that persuades the visitor to buy. After all, when you have paid for the click, you want that individual to take the action that you want. If not, you can be paying a fortune for clicks that are not converting. I can help you create a landing page which works.
Google Display Network can also be a very useful tool, but again, you have to use it right or you can be pouring money down the drain.
So as you can see, I can be a very useful Bay Area Google Ads expert witness, and it doesn't matter if you are physically nowhere near the Bay Area.